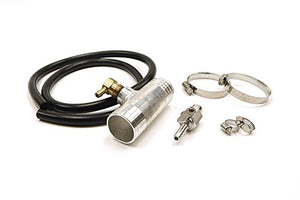 Top Gun Customz TGC11029 Diesel Auxiliary Tank Install Kit, 2" Fill Line - Fits 1999-2010 Chevy/GMC Trucks
Brand: Top Gun Customz
Features:
Provides Consistent Gravity Feed of Fuel
Controls Fuel Level from the OE Tank
Valve Shut Off to Avoid Overflow of Gas from Fuel Tank
Designed to Work with 3/8-Inch Female Pipe Thread Drain Fitting
All Hoses and Hardware Included
Details: Top Gun Customz Diesel Auxiliary Install Kit is designed to connect your auxiliary diesel fuel tank to your truck's fuel filler neck in order to provide consistent gravity feed of fuel. The kit controls the fuel level going into your OEM tank to prevent overfill. Easy installation. Kit contents: hose, clamps and fittings and is intended for diesel fuel only. Aluminum Tee 1.74" Inner Diameter, 2.0" Outer Diameter. *Vehicles with a two piece filler neck; The inner hose must be pulled out to insert your aluminum adaptor. The hose will need to be placed back into the adaptor after installation is complete.
---
We Also Recommend