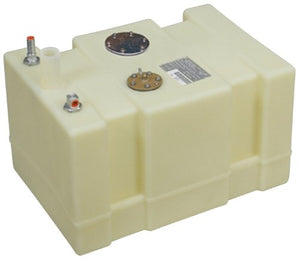 Moeller Marine 032612, Below Deck Permanent Fuel Tank, 12 Gallon - 20.00 in. L x 14.00 in. W x 14.50 in. H
Brand: Moeller Marine
Features:
Bracket Tie Down: 035710 or 300110, Fuel Pick Up: 1, Diesel Return: No, Sender: Swing Arm A002074, Belly Tank: No
Machined aluminum 3/8 in. withdrawl fitting with 360° swivel poplock for hook-up convenience
Ethanol and biodiesel-corrosion and pit-resistant
Complete with molded fill neck and withdrawal / vent fittings molded directly into the shell
ABYC-compliant fittings with seamless connections to rigid low-perm hoses
UV rating of 8, temperature rating of -40°F to 176°F
Details: Manufactured from marine-grade cross-linked polyethylene material, these durable below-deck tanks meet and exceed all industry standards. Moeller permanent fuel tanks are equipped with a Stewart Warner electric sending unit, a 1/4" NPT aluminum withdrawal, and a molded plastic barbed vent. Not for use with diesel fuel. Hydrocarbon swell causes tanks to expand by 3% in all directions. When measuring, please allow for this expansion as well as an extra 2-1/2" for fittings. Additional $5.00 shipping charge.
Release Date: 19-01-2007
Package Dimensions: 20.5 x 14.4 x 14.0 inches
---
We Also Recommend