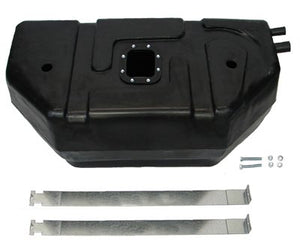 Jeep YJ Wrangler 20gal Gas Tank – 1987-1995 – 0065
Brand: MTS
Features:
Made of High Density Cross Linking Polyethylene, a high strength material with superior puncture resistance.
MTS replacement tanks are molded in one piece and have no welds or seams to split apart and will never rust through.
Will not crack even at 160 degrees below zero
Requires (2) emission valves w/ grommets - EMSV-2
Details: 1987-1995 Jeep Wrangler YJ 20 gal. tank with fuel bowl. Replaces original 20 gallon plastic tank with or without fuel injection (will replace original 15 gal. PLASTIC tank w/ rectangle sending unit hole). Includes new gasket (installed as seen in the picture) and two upper straps with bolts, nuts, lock washers. This tank will directly replace Domestic model number's 52002633 and 52018287. This tank will NOT directly replace export model numbers's 52018779, 52019226, 52007258 or 52002622 - a new skid plate and sending unit are required. There is a possibility of additional OEM sku's, if yours does not match one of these six numbers, please email us before ordering. Some early 1987-1990 Jeep 20 gal. plastic fuel tanks had an open ended skid plate without the rolled heat shield over the exhaust pipe, we recommend replacing the skid plate as an exhaust/heat shield safety precaution. We also recommend replacing the fill and vent hoses to prevent possible fitment issues with the new skid plate.
Package Dimensions: 34.0 x 18.0 x 12.0 inches