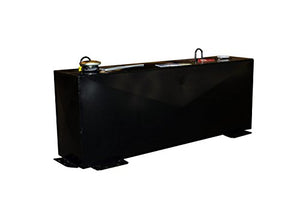 Better Built HD 36 Gallon Black Steel, Lid, Transfer Tank
Brand: Better Built
Color: black
Features:
 Large 36-gallon capacity
Overfill restriction provides automatic shutoff at the pump to prevent spilling
Built-in baffles add strength and prevent contents from shifting during transport
2in. dia. flush-mounted inlet and outlet bungs allow for fast flow
Lockable cap adds security
Details: The Heavy Duty truck tool box series was created for the working professionals that depend on their truck tool box every day to get the job done. The HD series is the most feature-rich, highest quality, truck tool box line on the market. HD truck tool boxes are built with many extra features above and beyond our other product lines. HD Transfer Tanks provide easy transport and storage of non-flammable liquids. Overfill restriction allows for automatic shut-off at the pump and the lockable cap and coupler allow venting. Flush mounted dual reinforced bungs strengthen the pump mounting location. Baffles add strength while preventing contents from shifting too quickly. Fully welded mounting brackets allow for easy mounting of the tank. All tanks are 100% quality inspected with a dual pressure and submersion leak test prior to leaving the factory.
Package Dimensions: 46.1 x 21.3 x 13.0 inches
---
We Also Recommend